Natural Prostate Solutions That Work...
✓ Stop frequent waking up at night to pee
✓ Stop uncomfortable prostate symptoms
✓ Avoid erectile dysfunction or incontinence
✓ Avoid damaging surgical or medical interventions
✓ Learn which prostate tests are OK & which are harmful
✓ Learn how to reverse prostate cancer, BPH or prostatitis
The Ticking Prostate "Time Bomb"
Watch the video below to learn about the side effects of medical prostate treatments...
Healthy Prostate from Ron Bazar on Vimeo.
---
Dear Reader,
My name is Ronald Bazar. I am a 64 year old survivor of a very extreme case of an enlarged prostate, known as BPH for Benign Prostatic Hyperplasia... it was so bad...
... I couldn't even pee!
I was able to heal myself naturally, and so can you. I show you how in my new and comprehensive book with its unique insights - no matter which prostate condition you have.
When your prostate gland functions well, you as a man are at your best – vital, healthy and capable of sexual pleasure.
When unhealthy with prostate disease, you can be left impotent, incontinent or in pain.
Your prostate problem is a wake-up call to get informed, take offensive action and find a new path.
My book - Healthy Prostate: The Extensive Guide To Prevent and Heal Prostate Problems Including Prostate Cancer, BPH Enlarged Prostate and Prostatitis - will help you to cure your prostate problem naturally, without the devastating side effects of conventional medical treatments.
My guidelines of how to find what works for you and your unique situation will set you on the path to healing. My book goes far beyond what you will find in other prostate books and websites which are mostly over-simplistic. It helps you build a customized path specific to your condition and body needs, an approach I had not found anywhere else during my quest and research.
It doesn't matter which prostate disease you have - you can avoid conventional treatments with all of their life-changing side effects. The problem with medical prostate interventions is that they attack the symptoms of the disease aggressively, which weakens your body. Doctors downplay the side effects of treatment, and do nothing to eradicate the underlying causes. This means your prostate troubles can reoccur later or cause other serious conditions. Doesn't it make more sense to treat the causes?
You can't overpower the body without consequences. Do not believe doctors who minimize the side effects of slicing and dicing, radiating, or poisoning the body—there is another way. Prostate problems are healable with natural methods if you are ready and willing.
No nonsense. No hype. Healthy Prostate is filled with solid information that educates and points you on the road to recovery - with complete conventional information and insightful alternative options - without all the falsehoods, misinformation and promotions I had to experience. Learn what to do so that you can finally get some real solutions that work.
Wishing you a Healthy Prostate!

Sincerely yours,

BCom, McGill University ~ MBA, Harvard University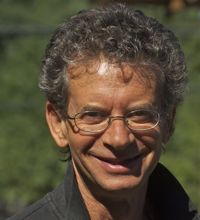 Ron at 64
ps. In my experience, no magic supplement or quick fix exists despite the products, sites and book claims you've seen with their slick marketing messages and smiling faces.
I know. I tried them all during the years of my extreme prostate condition.

If you believe that hype and it is what you hope to find here, then this book is not for you...
If you are ready to learn and to make changes, then step by step you can reverse your prostate condition.
"Healthy Prostate is a useful source of information to help you take responsibility for the health of your prostate. It gives details of dietary and other lifestyle changes to prevent diseases of the prostate and covers both conventional and alternative treatments. I found it very comprehensive." Dr. Andrew Weil, M.D. (www.drweil.com)
Now Just $19.95!

• Immediate ebook download in PDF format
• 100% Satisfaction Guaranteed

• 60-day risk-free trial!

A healthy prostate means:

No pain.
No waking up in the middle of the night to pee.
No burning sensation.
No dribbling urine into your underwear.
No having to wear adult diapers.
No difficulty emptying your bladder.
No painful catheter insertion into your penis.
No incontinence.
No loss of libido or impotence.
No erectile dysfunction.
No damaging surgical or medical interventions.

---

Don't wait until problems develop that cause you to suffer like I did. If you have a serious prostate condition, act now. It doesn't matter which prostate disease you have, they are all curable if you are ready to make the effort.

With my extensive book, Healthy Prostate, you'll be able to do something about prostate illness rather than just worry about it or suffer through it. You can prevent and heal prostate problems naturally.

Best of all, through nutrition and other natural means, you can keep your prostate healthy and avoid the debilitating side effects – including impotence, erectile dysfunction, ejaculation problems, incontinence, rectal dysfunction and more – of conventional medical methods of surgery, chemo, radiation, and prostate medications.

My Story:

How do I know? About 10 years ago when I was 55, I had been waking up for months in the middle of the night to go pee. Sometimes it would take a minute or two before I could urinate.

Then one day, I woke up in the middle of the night with a fierce urge to go, and not a drop would come out!

My overgrown prostate had squeezed my urethra – the tube that drains the bladder – shut tight. The pain became unbearable. I drove to the emergency clinic and had a catheter inserted to empty the urine.

My urologist diagnosed me as having BPH – an enlargement of the prostate. Against his advice and his scheduled emergency surgery, I decided that I would find a way to heal my prostate without invasive medical intervention and its life-changing side effects.

I embarked on what turned out to be an 8-year research project, using myself as a guinea pig, to figure it out and make the breakthroughs I finally did. I spent a fortune - over $100,000 on alternative practitioners, devices, special foods, tons of supplements of all kinds, remedies, prostate books and more - and still, out of the blue, I could have a prostate attack and be shut down again! No pee, no matter how desperate I was.

You see it is not as simple as what 99% of the pundits claim you should do – take this new surgical treatment, magical pill, supplement or hormones and your prostate problems are gone. You've seen the ads of smiling men, prostate problems banished forever! Well, if you've tried some of them, and they did not work, then my book is for you.

In the process, I found out everything conventional and integrative medicine have to offer for prostate sufferers. I know what works and what doesn't.

Finally I had unique insights and discovered breakthrough solutions I had seen nowhere else. And so I wrote a book for other men because I knew that if they had tried all the hyped products and treatments they were most likely disappointed like me.

You can shortcut all I went through and learn what I have without the years of searching, suffering and spending.

The culmination of this nearly decade of research is my comprehensive guidebook Healthy Prostate: The Extensive Guide to Prevent and Heal Prostate Problems. Inside you will find unique insights, natural remedies and techniques that can help you slow, stop, and even reverse virtually every prostate condition. These safe, natural methods work with all forms of prostate disease -- including benign prostatic hyperplasia (BPH) or enlarged prostate, prostatitis, and prostate cancer.

Now you can examine the dozens of prostate treatments in Healthy Prostate – and pinpoint the ones that can work for you – risk-free for a full 60 days. Read on for details….

Unsolicited Testimonial:

"What an amazing book! I'm in my 71st year with diagnosed prostate cancer & have searched the Internet for any information relating to this health challenge for many years.

It's all here, plus much, much more... quite incredible actually!

Thank you for putting the facts & your personal experiences in such an extremely easy to read format. I couldn't put your book down it is so interesting & well written.

To your every success with its sales - you deserve it.

Rob

ps. Your book - Healthy Prostate - should be considered as the ultimate guide for any & all prostate related conditions by every man & all medical professionals alike.

Further, I love the way that you make it so easy to access peripheral prostate helps with current URLs as you read instead of useless footnotes at the end of chapters which are quite meaningless to the average reader!

I do hope that you can get a lot of exposure for your excellent book as there must be literally millions of men & professionals who would benefit greatly from having your book as an all embracing reference guide for anything to do with the prostate."

Rob Lowe

Queensland, Australia

Why haven't more men been told these facts?

With Healthy Prostate at your fingertips, you'll quickly identify the best treatment options for whatever prostate condition you have.

You'll gain a thorough understanding of the prostate, how it works, the disease conditions that can affect it – and which one you have. Or for the healthy, how to prevent problems in the first place.

You'll learn about toxins and other environmental factors – in the food we eat and the water we drink – that can have devastating effects on your prostate health… and what you can do to combat them.

You'll discover natural cures, foods, remedies and techniques that you can take at home, without a doctor's prescription, to optimize your prostate health.

Perhaps most importantly, you'll gain the knowledge to intelligently evaluate suggestions from your urologist or internist – and make the decision that's right for you.

Including:

12 warning signs that you may have BPH or benign prostatic hyperplasia. Page 47.
4 out of 10 men who have prostate surgery have to wear diapers because of chronic leakage – and nearly 9 out of 10 become sexually impotent. Here's how to avoid their fate. Page 74.


7 risk factors for prostate cancer. Page 63.
The 11 healthiest foods you can eat – and 10 foods you should avoid at all costs. Page 145.
The truth about PSA testing with its high rates of false positives for prostate cancer. Page 80. Plus: 15 reasons other than prostate cancer why your PSA might be abnormally high. Page 81.


"Retrograde ejaculation" is an undesirable condition in which semen, instead of coming out of the penis, works its way back into your bladder. Do you know which wildly popular prostate treatment has an 80% risk of retrograde ejaculation? Page 52.


Why you should NOT go to your regular doctor for a digital rectal prostate exam. See your urologist instead. Page 78.
9 ways to minimize symptoms of benign prostatic hyperplasia, and pee normally again, without surgery. Page 49.
This simple exercise can help you strengthen your prostate, improving blood flow and removing toxins. Page 347
9 ways to prevent urinary problems when you have benign prostatic hyperplasia. Page 49.
The 7 important functions of the prostate gland. Page 31.
17 side effects from prostate drugs that you want to avoid. Page 54.
This prostate treatment makes you fat and destroys your libido. Plus, it increases your risk of a fatal heart attack by 28%. Page 96.
7 unpleasant side effects that can result from surgery for prostate cancer. Page 67.
Why your prostate cancer is highly unlikely to kill you. The good news on page 84.
The prescription prostate medication that can kill your sex life. Page 92.

---

Hidden dangers of traditional prostate treatments:

Prostate disease is a major health concern for men because of three conditions it causes: enlargement, inflammation, and cancer. Most Western men will experience some form of prostate disease during their life.

The symptoms can be minor to major and have a profound effect on day-to-day functioning and lifestyle, especially frequent urges to urinate, difficulty urinating, and a burning sensation when peeing – never mind its effects on your sex life.

You can't sit back and just leave the decisions to medical professionals. The medical treatment for prostate illness – from prescription drugs and surgery to radiation and chemotherapy – all have major side effects, including incontinence, erectile dysfunction, ejaculation problems, and more.

Some of the newer medical procedures, like robotic surgery, are being aggressively promoted and are a very profitable revenue source for clinics and hospitals offering them. Despite the promotions and smiling faces, they still have side effects and no improvement in outcomes compared to conventional medical prostate procedures.

Healthy Prostate provides insights about the risk factors of possible tests and procedures, so you can avoid destroying your sex life or having to wear adult diapers. This educational manual ensures that you can be in control of what happens to you next – rather than giving up all control to your doctors.

When frequent urination, difficulty peeing, and the other symptoms of prostate illness manifest themselves, many men worry and feel helpless. Now you can stop worrying, stop being helpless, and take control of your prostate health. In Healthy Prostate, you'll learn:

Easy 3-step test determines whether any particular food, supplement, medication, or household item is good for you or not. Page 265.


How to get a thorough colon cleansing -- and remove dangerous toxins from your body -- without going to a doctor's office or clinic. Starts on page 248.


Does a vegetarian or vegan diet reduce your chances of developing a prostate problem? Here's the inside story. Page 166.
Why American men have a higher incidence of prostate cancer than any other nation. And black American men have the highest of all. Page 132.


9 foods that can trigger a prostate attack. Page 281.
Why you can't pee during a sudden prostate attack – and how to get your urine flowing again in most cases. Page 283.
And if that doesn't work, then 30 easy steps to inserting a catheter safely and without pain during complete urinary retention - without having to go to an emergency room. Page 293.


You must know this simple technique to ease it through your prostate into your bladder. (I didn't, and ended up having to call an ambulance). Page 290.


What is the very best catheter to buy and why. Page 295.
Eating this spice can shrink prostate tumors – resulting in the death of cancer cells. Page 322.
The amazing connection between broccoli and prostate health. Page 305.
Is prostate cancer screening a complete waste of time, money, and your emotional comfort? See page 318 for the little-known truth.
This vitamin can reduce your cancer risk 50% -- by stimulating your "tumor suppressor" genes. Page 320.
Why men under stress can sometimes find it difficult to urinate. Page 337.
16 steps to a do-it-yourself prostate massage that releases stagnant fluids, increases blood flow, and invigorates the gland. Page 342.


And so much more...

---

Testimonial from the largest website on prostate health...

"As the founder of the largest website on prostate health at www.prostate.net and also the Chairman of the Prostate Cancer Institute, I can honestly say that this is the best publication I have read on natural restoration of prostate health as well as a general guide to healthy living for men.

Well done Ron in getting the message out to men and sharing your own journey. It is an invaluable asset for any man looking to take control of his own health."

Craig Cooper, Chairman

Prostate Cancer Institute, LLC and Prostate Research Labs, Founder www.prostate.net

---

Use it risk-free for 60 days...

Refund Policy and My Personal Guarantee to You:

"If you are not 100% satisfied with Healthy Prostate for any reason … or for no reason at all … just request a refund within 60 days. It's that simple."

---

To order Healthy Prostate on a 60-day risk-free trial basis,

click below to order now:

Now Just $19.95!

• Immediate ebook download in PDF format
• 100% Satisfaction Guaranteed

• 60-day risk-free trial!

If you need assistance, please contact me at HealthyProstate@Yahoo.com